Precision • Efficiency • Flexibility • Low Cost
Custom automated laser cutting is among the most effective processes for cutting plate or sheet metal for fabrication. Steel, stainless steel, brass, aluminum, nickel, and titanium are just a few of the metal materials that are ideal for laser cutting.
No matter what metal your project needs, these sophisticated tools can cut it with a precise, high quality edge.
Automated Laser Cutting Services and Equipment
Our highly skilled craftsmen work with Prima and Amada laser cutting systems to provide unmatched service. They offer countless advantages over traditional mechanical cutting, including:
Precision: This technology allows us to cut precise and accurate geometric shapes, no matter how irregular or unusual they may be.
Efficiency: Zero set-up time and around the clock, unattended processing capabilities are perfect for long runs.
Flexibility: The speed and flexibility of our laser systems give our clients a low-cost sheet metal cutting solution, and low-impact set-up means that design adjustments are easy to make.
Cost Savings: Our laser cutting equipment is fully automated. Combined with its high precision, efficient operation and easy set-up, clients get top quality while cutting costs significantly.
Precision Metal Industries' laser cutting processes incorporate automated material handling, off-line programming, and part nesting for material maximization. We are outfitted with state-of-the-art laser cutting machines from Amada and Prima with laser capacities of 2 KW and 4 KW, respectively.
Our 4 KW Fiber Optic Prima laser cutting machine offers cutting edge technology with a fully automated vacuum lift loading system and a rake unloading system. These features allow for significantly faster processing without sacrificing quality in production, reducing our customers' lead times. The laser head and beam's speed, intensity and resolution are adjustable for the most accurate results. Laser cutters allow for cutting and scoring of material and approximation of raster graphics.
Industries and Specialties
Laser cutting is a quick and cost effective process that allows for precise, tight tolerance finished pieces. The PMI team has laser cut components for: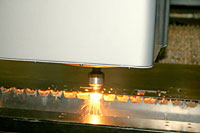 Custom Work and Certifications
As a world class, premier metal fabricator, PMI's cutting capabilities are almost limitless. Our company is ITAR registered, SAM: CCR & ORCA Registered, and we exceed the requirements specified in ISO 9001 for superior quality in any commercial or military application.
Over the past three decades, we've built a national reputation for affordable, high quality custom work, no matter the project or specifications. We are committed to meeting your laser cutting and fabrication needs, helping to produce exceptional projects from start to finish. For more details on our specialty certifications, including ISO 9001, visit the listings on our certifications page.
Our high quality is a direct reflection of our team's dedication to reviewing, auditing, and re-writing our processes, in order to constantly improve our products. PMI believes in "100% Quality, 100% Delivery," and we work closely with every customer to provide the best results and highest level of service.
Contact the team today to see how PMI can meet the laser cutting and fabrication needs for your next project.