Certified Staff Welders and Automated Robotic Welding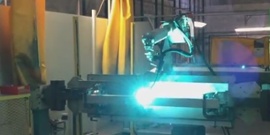 Robotic welding is a very effective application of collaborative robots. It allows for precise, high quality, and efficient production. And it isn't fully automated — while offering the quickness and precision of robotics, every machine is overseen by one of our experienced and talented staff welders to guarantee great results for your project.
Traditional Welding Services
Our talented team is well trained, greatly experienced, and highly skilled in all types of metal joining and bonding. Some of the welding capabilities you can expect from PMI include:
Spot Welding
Adhesive Bonding
Soldering
Riveting
With years of experience in a variety of industries, the team is happy to recommend the joining or bonding method most suitable for your needs. We have multiple AWS certified welders on staff, ready to help.
Automated Robotic Welding Services
Along with our certified welding team, PMI has incorporated the use of automated robotic welding into our everyday services. This robotic welder has a specially configured cell, allowing for a large range of part sizes and specifications to be completed.
Along with this versatility, the welder performs with extreme consistency, repeatedly producing perfect welds in the most efficient way.
Some of the key perks to this state-of-the-art technology include:
Our top welders supervise these automated systems for superior quality, maximum efficiency, and minimal costs
Automated robotic welding is excellent for crafting routine welds in the same spots for repetitive projects — minimizing human error maximizes yields
The precision of robotic welding makes both the process and final product very neat, with little splattering and controlled seams
Filler material and weld wire are used very precisely with robotic welders, making them more economical in terms of both material use and operational cost
Parts can move through these systems very quickly, reducing turnaround and project lead times
Industries and Specialties
The versatility and technology backing PMI's welding team makes a great fit for industries with needs both large and small. We provide quick, efficient services for teams in:
Defense/Military
Medical
Aerospace/Avionics
Energy
Electronic enclosures
Custom projects
Custom Work and Certifications
When it comes to your welding needs, once again PMI is an industry leader. We are committed to providing traditional and robotic welding services for the highest quality bonds. After three decades of precision metal fabrication, we've become known nationwide for our dedication to quality and exceptional custom work, including specialty welds.
No matter your project requirements, our team is ready to meet your specifications. We exceed the requirements for ISO 9001, in addition to our other specialized certifications — find all the details on our full certifications page.
PMI offers more than premium welding services — both of our facilities come with start-to-finish capabilities, including a full array of sheet metal fabrication and finishing equipment. Our team believes in quality first, and service always. Contact us today to learn more about our welding work and full in-house offerings.