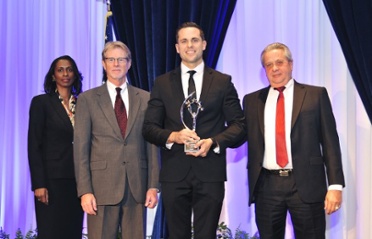 Precision Metal Industries is proud to be recognized by Lockheed Martin as their 2014 Small Business of the Year!
Each year Lockheed nominates and selects through a committee a small company that has provided outstanding products and support.
Lockheed Martin has thousands of suppliers and we are extremely proud to have our work recognized in this way. This past year was another year of 100% quality and 100% delivery to Lockheed. In addition to top-quality products, we are constantly upgrading our systems to improve our customer service.
Better Price for Better Automation
At PMI, we decrease pricing by automating our operations. The upgrades and improvements in our operations allows us to pass on cost savings to our customers. Lowing prices is not what customers in today's market expect. This is what sets PMI above the competition.
Our commitment to quality in unwavering. In industries like aerospace and defense where quality products are imperative, we are extremely honored to have our achievements recognized. A reputation for high-quality products is our mission and we consistently meet those requirements for every one of our customers.
Personal Investment in Customer Satisfaction
PMI's 100% employee stock ownership plan gives all of our workers a stake in the company and the products we produce. The pride of each employee shows in each product we ship out. If other companies think that a successful job is 99% perfect, we don't. It's 100% or nothing.
Our components and parts are integrated into medical equipment, war fighters, and aircraft. This equipment must work properly to prevent catastrophic failures. If our name is on the product, our quality stands behind it.
Lockheed Martin presented the awards at a ceremony on May 5th in Dallas, TX. PMI's President and General Manager were on hand to receive this honor. We are extremely proud to be recognized for our solid commitment to quality and our dedication to providing industry with the highest quality products and components.
---
---