OEMs are faced with a unique set of challenges when designing and building medical equipment.
The medical industry is tough on equipment, and each doctor's office, hospital, and care center is different from the next. Different types of equipment, external space constraints competing with internal space requirements, amount of use, and cleaning procedures all dictate the type of cabinet that will be required for a medical device.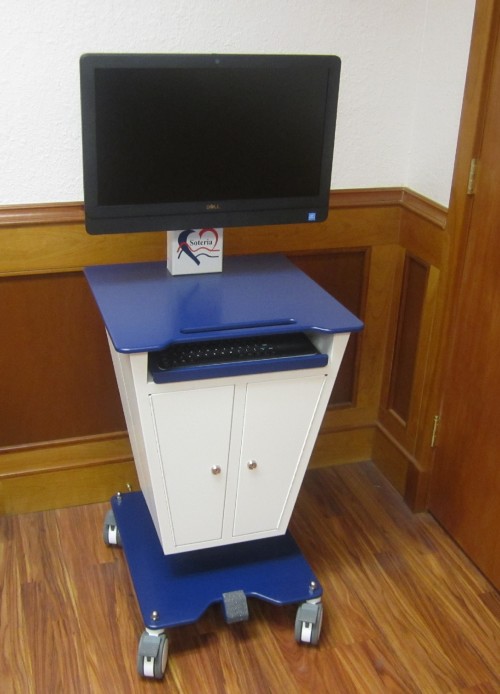 Medical devices and equipment must be fabricated to exact specifications.
Delicate equipment must be housed in such a way that it is protected from regular daily use, as well as more punishing wear and tear they're likely to encounter in medical settings. Lives will depend on it.
To meet the strict requirements of the medical industry, OEMS have to put a great deal of care into the design, material and part sourcing, and manufacture of equipment.
Custom Jobs Need Versatile Material
In this regard, the medical cabinet is of the utmost importance. It must be made from material that can be economically manufactured into the exact specifications required for applications.
Custom pieces must be fabricated to meet all of the requirements of the equipment contained inside, as well as medical industry expectations: lightweight, durable material that can be kept clean in potentially sterile environments.
Sheet metal meets all of the following requirements:
Ease of overall manufacturing processes — The malleability of sheet metals make them ideal for custom medical cabinets for medical equipment. Bending, hydroforming, and punching are all fabrication methods that can be used on sheet metal. The availability of manufacturing options gives sheet metal an advantage over other materials. Robotic fabrication can also help ensure that products meet the precise demands laid out by the customer. This allows the fabrication of products that perform exactly as expected.
Durability — When medical equipment is used in busy hospitals, it can endure a great deal of abuse through everyday application. Crash carts are rushed from room to room with little regard for the damage that might be caused. Sheet metal provides the durability that medical equipment needs in order to keep it protected and to stand up to heavy use or abuse during hospital operations.
Sanitization — Aluminum and stainless steel are common metals used for sheet metal products. Their resistance to corrosion allows for heavy duty cleaning products and disinfectants to reduce the risk of infection.
Medical Equipment Requires Strict Quality Standards
Specifications for medical equipment housings are among the most stringent measurements in any industry. Even small mistakes could lead to the malfunction or complete failure of sensitive technologies.
When OEMs source medical cabinets, they must be sure that the companies they contract can meet the strict tolerances without fail. This often means utilizing full service manufacturers, companies that can provide a number of value-added services above and beyond their manufacturing specialties . Services to look for from your suppliers should include:
Punching
Press brake forming
Deburring
Finishing services for aesthetics and cleanliness
Using a full service manufacturer limits the number of suppliers you need to create a completed medical device. Aside from reducing costs and production time, this limits the likelihood of dangerous errors in the completed product.
With the use of sheet metal, the medical industry can be sure that it is receiving high quality parts capable of enduring the rigors of everyday use. The workability of sheet metal, used in tandem with processes such as robotic fabrication, means that highly-specialized cabinets will always meet the needs of the customers and patients.
---
---