We all know that the men and women of the armed forces depend on their weapons to help them through combat situations. From rifles to missiles and other equipment, everything has to work properly to ensure that soldiers have the best chances of surviving an enemy engagement.
But what are the best ways to help out soldiers? How can we be sure that their equipment will function properly when needed? One answer is high quality battlefield containers.
Protective Storage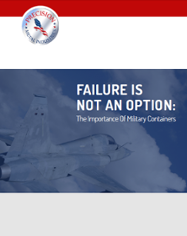 When it comes to battlefield equipment, proper storage is vital. Battles don't happen every day and, as a result, some equipment may go for long periods of time without being used. Whether it's a missile, communication equipment or ammunition, they need to be stored. During storage, battlefield containers have to take the following things into consideration:
The Environment – Battlefields can be anywhere in the world. Any equipment in containers have to be protected from the elements, no matter what that means.
Portability – When equipment is moved, it's important that it be easy to stack in predictable and standard ways. This makes inventory, loading and unloading much simpler for the people involved.
Deployment – Rough handling is always a possibility. Containers need to protect the contents from rough seas, bad roads or severe air turbulence.
With so much to think about when it comes to battlefield containers, you want to be sure that you select a company that can provide the best protection for expensive military equipment.
How PMI Can Help
Precision Metal Industries has over 30 years in the fabrication of many different types of containers. Our company takes great pride in its high-quality, high-durability products, which are custom-made for any piece of hardware.
Experts at our facility use various high-tech fabrication methods to create containers which will meet even the strictest requirements in a number of industries, including military applications. PMI will use the fabrication method and material that best suit your needs.
Help ensure that your hardware arrives safely on the battlefield, exactly when it is needed the most. Visit our website today and download our free eBook for more details on the importance of battlefield containers.
---
---